Photo organizing can be a wonderful trip down memory lane, but there's a lot more
to it than just sitting down and trying to put them in order. Here are a few tips on how to organize photos from Caroline Guntur, Certified Photo Organizer.
Invest in Quality Photo Storage
Photo organizing is a big undertaking, so if you can't get to that part just yet, try to at least store your photos correctly to prevent further damage to them, i.e. in a dry environment where the temperature doesn't fluctuate too much. This is a good first step to take that doesn't require too much time or effort.
Paper Photo Organizing

Purchase a sturdy, archival-quality storage box or album that will help you stay organized. I recommend an archival-quality storage box. It comes in several different sizes and has been tested to meet the most rigorous standards. Plastic storage containers are fine for sorting photos, but you want to avoid them for long-term storage because they trap moisture, which speeds up the deterioration of your photos.
Digital Photo Organizing

Utilize a digital photo hub (dph), meaning a reliable storage place where your digital
photos can live.  This can be a folder on your computer or an external hard drive. Cloud storage is becoming increasingly popular but isn't yet reliable enough to use as a dph, though a cloud backup is fine. You want something with enough space to keep all of your photos together in one place, so plan on having at least 1TB worth of digital storage space available so you don't run out before you're done organizing.
Organize Digital Photos First
Your instinct may tell you to organize your prints first, but I always recommend starting with your digital photos (unless prints are all that you have). We deal with digital first because you need a system going forward. The past is the past and won't change, but if you have a system in place for dealing with the images you will take in the coming years, you won't get buried further under a mountain of new photos. Life isn't going to slow down just because you're not ready for it, so develop a system you can maintain from now on, and then address the backlog little by little.
Start by importing all of your digital photos from your devices to your digital photo hub (dph), so that you can start organizing them. Where should you be looking for your photos? In every place you can think of, including:
Smartphones (including old ones laying around)
Digital cameras (the internal memory)
Memory cards (including those from obsolete cameras)
External hard drives
Flash drives
Non-commercial CDs and DVDs
Computers (including older ones)
Don't feel that you have to transfer everything in one day. You can complete this step over a few days or a few weeks even. This gathering process is the most time-consuming, and the time it takes will depend entirely on the number of storage devices you have, your past system, and the time you have available to set aside for this project.
Sort Photos
Once you have everything in one place, it's a good idea to decide on how you would like to sort your photos. There are many ways to do this, but the two best ways are chronologically and thematically. Chronological sorting is self-explanatory. With this system, you organize your photos based on when they were taken, for example by decade, year, or month. Thematic sorting means that you divide your photos based on a theme or category, such as birthday celebrations, graduations, or vacations. It's up to you which works best for your collection.
Sort chronologically if you:
Like facts & dates
Have a good memory
Want to organize in detail
Sort thematically if you:
Care more about the events rather than the dates
Don't have many details about your photos
Want to organize your collection quickly
Edit Photos 
In digital photography, it's easy to have many similar shots or 'mistakes' that don't need to end up in your final selection. Not all photos need to be saved. You can easily cut down on the number of photos you need to store by getting rid of:
Blurry shots
Bad angles
Duplicates
Photos without a story
Maintenance is a Must
All types of organizing require ongoing maintenance, and photo organizing isn't any different. Once you have your collection under control, set aside time regularly to import, sort, edit, and organize your photos so you can continue to enjoy your memories without stress.
For more on the ins and outs of photo organizing, come visit me over at  organizingphotos.net
Caroline Guntur is a Certified Photo Organizer, Family Historian, and Genealogist. A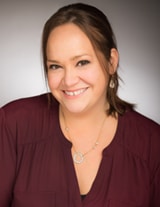 native of Ystad, Sweden, Caroline now resides just outside of Chicago, IL, where she runs The Swedish Organizer, LLC., a company that helps people sort, digitize, and preserve their family histories. She is a member of the Association of Personal Photo Organizers (APPO), the National Association of Productivity and Organizing Professionals (NAPO), the Association of Personal Historians (APH), and the Association of Professional Genealogists (APG)